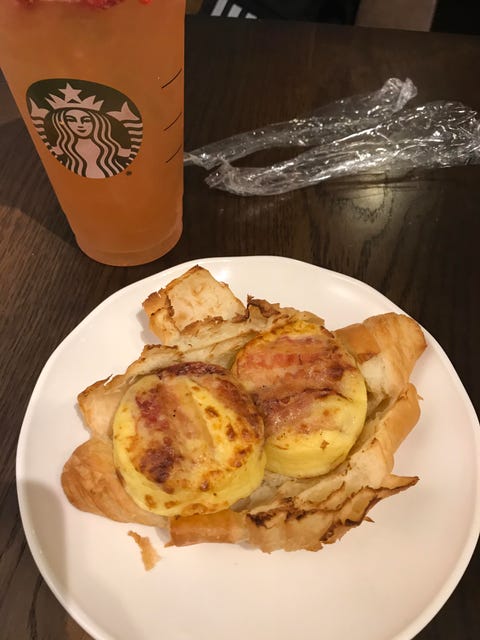 I adore a decent mystery Starbucks thing. You definitely know the client and barista-made beverages, yet nourishment? Nourishment is infrequently disregarded inside the ~Starbucks mystery community~. As of not long ago. Presently there's a breakfast sandwich your baristas have been eating and you'll need to partake in it. I give you the Bacon Croissant Bite.Made with a croissant and bacon and gruyère sous vide egg nibbles, it was initially presented on Reddit by client tommyd97, who states, "Cook the egg chomps like typical yet stop the broiler at ten seconds. Cut a croissant and draw it separated, stuff them in, and nuke at a croissant setting. It'll get super fresh and wonderful."
The possibility of a rich croissant in addition to bacon is something that I could never turn down, so I set out to reproduce this under-the-radar mixture. Inviting update: Since this isn't on the Starbucks menu, there's a shot your barista won't cook the egg chomps, stop the stove at 10 seconds, cut a croissant, stuff them in, and nuke it at a croissant setting. My neighborhood Starbucks was occupied and couldn't suit, so I needed to DIY it.
I requested the egg nibbles and croissant, both to be warmed. At that point I cut the croissant, stuffed the egg chomps in, and made a serious breakfast sandwich.It was bacon-y and gooey and rich and delectable. I wasn't hungover giving this a shot, however in the event that I were, I envision that it would work ponders. You can likewise slice it down the middle to have two littler sandwiches.Other Reddit clients participated in saying they do this with everything and plain bagels for a Starbucks go up against a bacon egg and cheddar sandwich.
There you have it. One more day, another Starbucks hack.