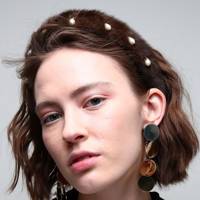 The last few fashion week seasons have been lacking as far as nail art inspiration goes. But if NYFW is any indication, nail art is back in a major way for spring 2018 — and I, for one, am super stoked. Read on for the six biggest trends from the runway, and dust off your striper brush because you're gonna want to try them all.Champion logo by Alicia Torello using Essie polish for Kith.Helmut logo by Naomi Yasuda using OPI for Helmut Lang.Monogram design by Rita Remark using Essie for Monse.Ribbon nails by Julie Kandalec using Essie for Tanya Taylor.Floral accent nail by Julie Kandalec using Essie for Michael Costello.Accent nail by Deborah Lippmann at Kate Spade New York.For the past few years, The Fashion Spot has monitored every Fashion Week and reported on the race, size and gender of models, pinpointing the designers and labels who champion diversity, and those that do not.
This week, they published their report of the spring/summer 2018 shows and found that they have been the most diverse yet. However, the figures show that the industry still has a long, long way to go in terms of equal representation.
Looking at 266 major shows and 8,258 catwalk appearances across the four fashion capitals, 30.2 percent of models cast were women of color, up 2.3 percent from last season. The most racially inclusive shows were Sophia Webster, Tome, Ashish, Chromat and Kenzo.
New York Fashion Week was the most racially diverse overall,and also cast 90 of the 93 "plus-size" models who walked the runway.
Collectively, 27 models aged over 50 walked the runways, and 45 transgender models, and four non-binary models, were cast this season, compared to 12 castings last season.